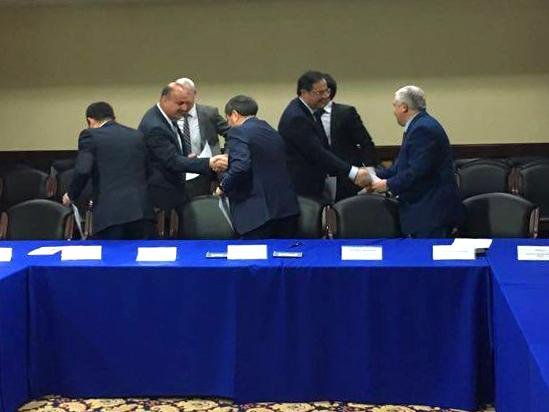 The conditions of transportation of freights by railway and ferries in Alat – Aktau – Alat and Alat- Kurik – Alat directions were discussed. In this regard, a meeting was held between representatives of the Kazakhstan Railways, Georgian Railways, CJSC "Azerbaijani Railways" Aktau International Sea Trade Port, CJSC "Baku International Sea Trade Port" and CJSC "Azerbaijan Caspian Shipping Company." The main subject of the discussions during meeting, which was held on February 27-28 in the Aktau, was the relationship and responsibilities of the members in the implementation of transportation, the obstacles that arise in the course of transportation sustainability, and efficient solutions.
As a result of the two-day meeting, a protocol was signed, which reflects the responsibilities, forms of information exchange and other important aspects related to the interaction of the members. The participants made a committed to notify customers on compliance of wagons transported by the Trans-Caspian International Transport route, and technical characteristics of vessels. The document also contains the obligation to ensure the compliance of the freights to the technical means of the vessels belonging to the Azerbaijan Caspian Shipping Company.
It is worth to note that Azerbaijan Caspian Shipping Company plays a significant role in the international transportations through the Trans-Caspian Transportation route. The fleet of the Company which is the only ferry operator in the Caspian Sea includes 13 vessels of this type.