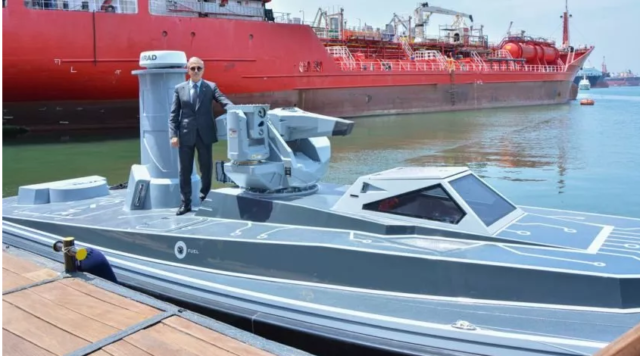 Developed in cooperation with Yonca-Onuk Shipyard and Havelsan, SANCAR Armed Unmanned Marine Vehicle (AUSV) was launched at a ceremony attended by Defence Industry Agency (SSB) President Dr. İsmail Demir.
Speaking at the ceremony held at Yonca-Onuk Shipyard in Tuzla, Istanbul, Demir said, "We aim to become one of the leading countries in the world in this field as well by using the experience and success we have gained in armed unmanned aerial vehicles. We have many studies on AUSVs, SANCAR AUSV is one of them. It is very important for us that AUSVs work in an integrated operational environment in terms of preparation for the operational environment of the future. Thank you to everyone who contributed to this work."
Purposely developed to perform reconnaissance and surveillance, surface warfare and mine countermeasure missions, Sancar AUSV will minimize this risk that such missions pose to personnel, and will enable many tasks to be carried out more cost-effectively.
Features of SANCAR AUSV:
12.7 meters long
9 ton displacement
40 knots maximum speed
400 NM minimum cruising range
40 hour cruise endurance
Modular design
12.7 mm STAMP-2 Stabilized Weapon System
2×2 UMTAS / L-UMTAS integration
MILMAST Telescopic Mast (Navigation radar, camera, anti-collision systems)