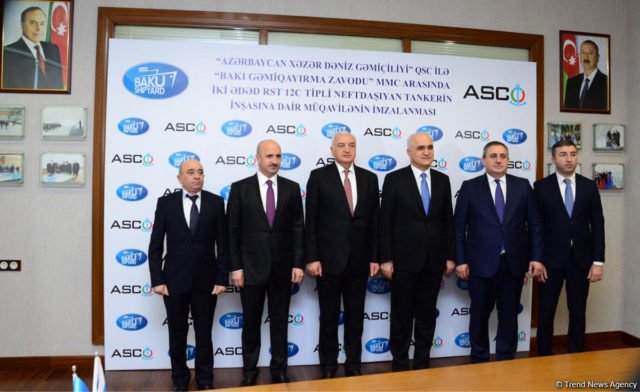 Baku Shipyard LLC will build two oil tankers for the Azerbaijan Caspian Shipping CJSC.
The corresponding contract was signed by Chairman of Azerbaijan Caspian Shipping CJSC Rauf Valiyev and Executive Director of Baku Shipyard LLC Imanverdi Hasanov.
The length of the new tankers, as well as the "Lachin" oil tanker, which is being built, will reach 141 meters, width – 16.9 meters, height – six meters. The deadweight of the tankers in the sea will reach 7,884 tons, on the river – 5,455 tons. Their speeds may reach 10 knots per hour. The tankers will have six tanks each with a capacity of 9,190 cubic meters.
The "Lachin" tanker launching ceremony was held in Baku on Feb. 21. The tanker's hull has been constructed. The remaining construction will be carried out in the water.