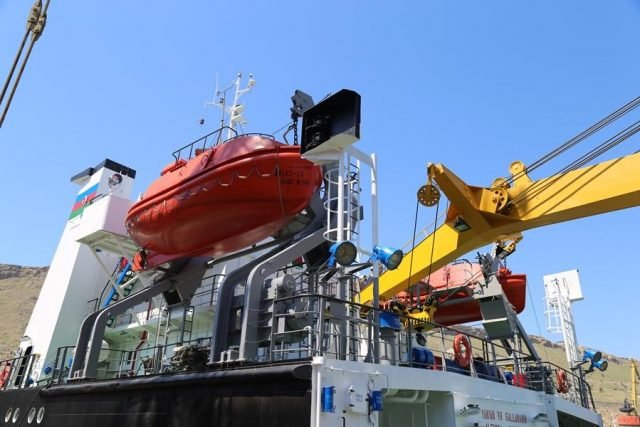 Press release of Press Service of "Azerbaijan Caspian Shipping" Closed Joint-Stock Company
The repair of the crane vessel "Athlet-24" is being completed
Overhaul of the 40-ton crane vessel "Athlet-24", which belongs to the Caspian Sea Oil Fleet, of Azerbaijan Caspian Shipping Company is being completed at "Bibi-Heybat" ship repair yard.
During the repair works, which began in November 2016, the cleaning and painting of the underwater and surface parts of the vessel were completed. Adjustment of the engine-steering complex, as well as vessel (isolation valve) armature and protector device is carried out. Unsuitable parts of the hull were replaced. Quality repair of pumps of main and auxiliary engines, separators, pipe systems, cabins, etc. have also been made.
It should be noted, that all the parts used during the repair work are made in the Turning Section of the repair and mechanical department of the "Bibi-Heybat" ship repair yard. To confirm the operation of the equipment, the vessel will undergo tests.
For information, it should be noted, that the crane vessel "Athlet-24" was built in 1990 in Poland. The vessel is 63.8 meters long and 15 meters wide and is equipped with a 1,520 hp engine. The speed of the vessel is 11.24 knots.