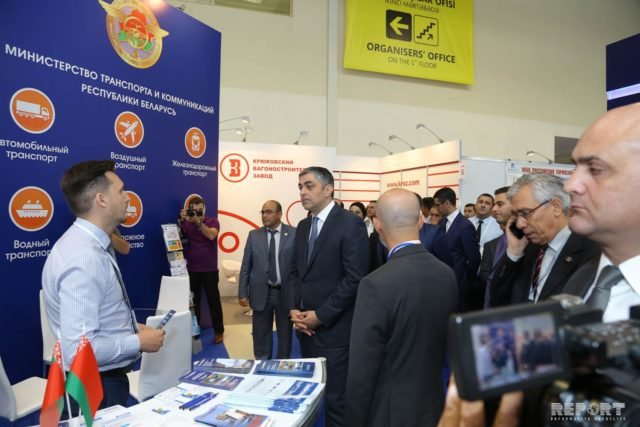 The 18th Caspian International Transport, Transit and Logistics Exhibition, TransCaspian/Translogistica 2019 and the 9th Caspian International Road Infrastructure and Public Transport Road & Traffic 2019 has today kicked off at the Baku Expo Center.
Report informs that Minister of Transport, Communication and High Technologies Ramin Guluzade made an opening speech at the exhibition.
According to him, emphasis is placed on the development of the transport sector in the recent years, regional projects are implemented.
"Modern and functional transport system is formed in Azerbaijan in accordance with the state programs. Generally, the policy is based on the building creation of competitive environment," he said.
TransCaspian and Road & Traffic exhibitions gather representatives of 75 companies from 10 countries. This year, TransCaspian/Translogistica will present the latest products and services from Azerbaijan, Belarus, Russia, Turkey, Ukraine and a number of other countries. Along with commercial companies, the exhibition will also include state transport structures, such as CJSC Azerbaijan Railways, Baku International Sea Trade Port, State Road Transport Service, Azerbaijan State Motor Road Agency and the State Maritime Administration of the Republic of Azerbaijan.
So, the TransCaspian/Translogistica 2019 and Road & Traffic 2019 exhibitions allow foreign companies to establish links with the local market, Azerbaijani companies to get access to world market, find new partners and dealers, as well as expand existing projects. The exhibitions are supported by the Ministry of Transport, Communications and High Technologies of the Republic of Azerbaijan, Permanent Secretariat of the Intergovernmental Commission TRACECA, National Confederation of the Entrepreneurs (Employers) Organizations of Azerbaijan Republic (AEC), Azerbaijan Export and Investment Promotion Foundation and Small and Medium Business Development Agency of the Republic of Azerbaijan.
As part of the exhibition, there is also a plan to organise a conference on Trans-Caspian International Transport Route.