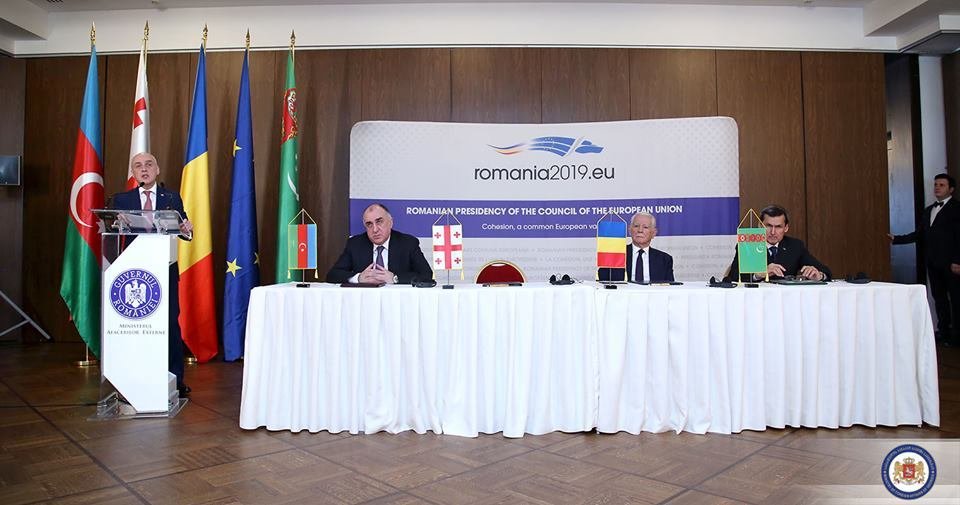 At the signing ceremony the ministers stressed the importance of the Caspian Sea-Black Sea transport corridor.
According to Report, it was noted that this route is the shortest and economically profitable option connecting Europe and Central Asia.
The sides noted that the presence of Romania, the European Union member, will promote the active participation of the organization in the development of the transport corridor.
Romanian Foreign Minister Teodor Melescanu said the transport corridor will play an important role in the EU-Central Asia Cooperation Strategy to be adopted this year.
A working group of experts to work on coordination of technical aspects and optimizing procedures will be created for the corridor development and this will help simplify tariffs and customs procedures.
Notably, the first talks on the Caspian Sea-Black Sea transport corridor were held last year. The four-partite session of experts on the project of this transport corridor was held in Ashkhabad (Turkmenistan) on October 24-25, 2018.
————-
17:09
The meeting of the foreign ministers of Azerbaijan, Georgia, Turkmenistan and Romania has been held in Bucharest.
Report's local bureau informs that, according to the Georgian Foreign Ministry, a joint statement was signed on the development of the Caspian Sea-Black Sea transport corridor following the meeting.
The document was signed by Foreign Minister of Azerbaijan Elmar Mammadyarov, Foreign Minister of GeorgiaDavid Zalkaliani, Foreign Minister of Turkey Rashid Meredov and Romanian Foreign Minister Teodor Melescanu.