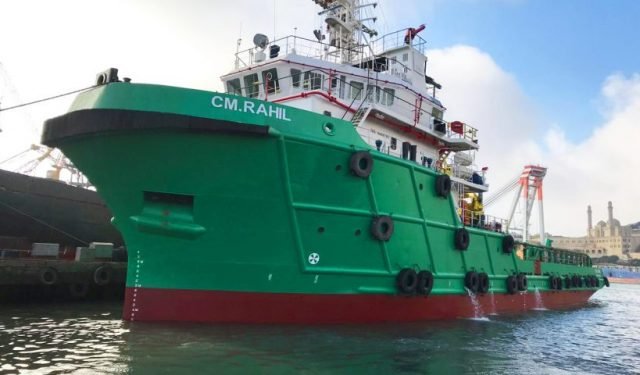 By asco.az "Bibi-Heybat" Shipyard of the CJSC Azerbaijan Caspian Shipping Company (ASCO) has overhauled the towing-supply vessel "CM. Rahil" owned by Turkmenistan. The overhaul was completed on time and with high quality.
The main and auxiliary engine coolers, air pipes, engine generators, the electrical engine of auxiliary steering unit was repaired at the plant in the course of the works, and the testing of crane-beam of the lifeboat was undertaken.
Along with this, the windlass unit located in the bow of the vessel has been overhauled; the hydraulic systems of the towing winches were replaced with the new ones. The T1016 type fire alarm system, including smoke and temperature detectors were tested.
During the dock repair, the propulsion and steering complex, bottom-side fittings, and protective units of the vessel were repaired. The damaged areas of the surface and underwater parts of the hull which posed a threat to navigation were replaced by the new ones, with the subsequent painting of the hull.
Following the overhaul, the vessel has been tested in the sea. After successful testing works, the vessel was transferred to crew and representatives of the Register classification.
For information, we note that the length of the CM.Rahil supply and towing vessel is 59.25 meters and width is 14.95 meters. The ship is equipped with two main engines of CAT3516B type.
It is worth to note that ASCO has a strong ship repair facility in the region. The company includes the Bibi-Heybat Shipyard and the Zykh Shipyard, which carry out high-quality repair of not only for local ships, but also the ships owned by foreign countries.